What Does Ethical Design Mean to the New Jocks?

Preserving a way of life, not necessarily "saving the Earth" (Sustainability Lacks Meaning for Many Consumers…)
TNJ wants to preserve the Earth and all of it's components by minimizing wastes, creating designs that are versatile in order to use less energy and labor, creating designs that are multifaceted like the transformable skirt and leggings, and using wastes such as scraps in our very own designs as long as the amount of labor does not increase by doing this, and finally by increasing our fabric yield because all pattern pieces are similar shapes to rectangles and squares. BUT most importantly, TNJ wants to spread the word about ethical design and our goal is to make YOU to feel like YOU can made a DIFFERENCE!
Industry/Market Research
TNJ wanted to model Gildan's Quality Attitude, which is the belief that "our attitude determines our altitude". We wanted to take a hands-on, proactive approach to spreading "sustainability awareness" to a younger, trendier consumer by designing garments that demonstrate all of the above. This influenced TNJ to reach out and create awareness through our brand of what it means to have quality control and to be sustainable. Modeled like Patagonia's website, TNJ plans to have a world map with a locator that illustrates where the consumer's garment has been made each step of the design process. Furthermore, TNJ has developed hang tags that say " YOU just made a difference by purchasing ME! Please check out our website, http://www.thenewjocks.com, to see how you can continue to change the world, one tee at a time."
Gildan's Quality System (GQS) "helps manage quality throughout the organization by specifying the procedures, work instructions, record-keeping forms, technical specs and job descriptions that underline the company's quality." TNJ was influenced by GQS and taught it's employees ways to cut fabric in order to increase fabric yield and to minimize wastes. With left over scrap pieces, TNJ has created a tank top design that incorporates knotting of scraps for the front and back necklines. On TNJ's website there will also be a section that illustrates different and creative ways to use scraps and old garments. Furthermore, TNJ has also contracted a recycling company to collect scrap pieces of fabric we do not use. This company recycles scraps into other forms of apparel.
TNJ is striving to be a part of the Fair Labor Association (FLA) as well as the Worldwide Responsible Apparel Production (WRAP) as ethical labor
practices are taken extremely seriously within our company. Once TNJ is a part of the FLA, we will adopt the code of conduct addressing all issues from
child labor, forced labor, compensations, benefits, hours of work, health and safety, environment, harassment or abuse, discipline and termination, etc.
TNJ realizes that consumers are slowly understanding that sustainability is an urgent matter. People are starting to ask themselves "Am I leading a sustainable life, is my health sustainable, is my job sustainable, is my consumption sustainable?" TNJ wants to help consumer's answer these questions and by purchasing our garments, one can answer "YES" to all of the above. (Light, Larry)
Today, consumer's are also shopping for price. To most consumer's price equals value. At TNJ, our price points are extremely competitive and difficult to beat but are equivalent to those of American Eagle and Forever 21. We realize that the average consumer shops for PRICE, PURPOSE, and PROCESS. At TNJ we strive to give the consumer a great price, we guarantee that when the consumer walks away with our product he/she will feel like their purpose was to make a difference and they succeeded, and on our process is featured on our website. (Werbach, Adam)
Furthermore, our packaging is 100% eco-friendly, as we use biodegradable packing peanuts, which evaporate under water. We use cardboard boxes, which are recycled and can be recycled again after its use. TNJ also uses scrap fabric to write style and P.O numbers for each design. Instead of individually wrapping garment styles, TNJ wraps all styles in recycled tissue paper.
Manufacturing Process
Gildan, our manufacturer, has implemented several techniques in their factories promoting sustainability and socially responsible practices. They
are known for their biological wastewater treatment system in Honduras and the Dominican Republic. Wastewater's pH is naturally neutralized, chemicals degraded, and particles removed by bacteria. The treated water is then released into the nearest river. Also Gildan is one of the few companies to institute strict requirements for the supply of all chemicals, dyes, and materials used in production, ensuring they have been approved by the appropriate regulatory authorities and have no adverse effect to health or the environment. Energy consumption is also carefully monitored and excess expenditure is minimized.
Gildan also gives back to their factories' communities abroad. An example of one initiative, in 2005, the Instituto Politécnico Centroamericano – IPC– was established as the first technical institute in Central America to train personnel for the textile and apparel industries as well as industrial maintenance.
As of now, TNJ uses the Central American Polytechnic Institute (Instituto PolitÈcnico Centroamericano – IPC) (IPC) located in Honduras for all our current manufacturing. This institute provides education to more than 1,800 students each year. Students participate and "study the various aspects of production and its processes in programs that take from 12 to 24 months to complete. All of the IPC's study programs will include courses in English, computer literacy, ethics, environmental safekeeping, leadership, and personal finances." (http://superioraw.com) At TNJ, we plan to take care of our surrounding community, just like Gildan did when funding the IPC.
Insight Gained
What consumers look for in "green products"
What the Fair Labor Association is and why it is so important to be a member
Consumers do not know what it means to be sustainable
How managing wastes along with labor control helps becoming more and more sustainable
Questions/Challenges
One of the overall challenges that our team encountered was analyzing what sustainability truly meant to us, and furthermore developing designs that we feel encompass these ideas. At times it was difficult to create garments that followed our standards of sustainability.
Another challenge that we came across was learning to get acclimated to the entire production process. It was our team's first time dealing with other companies, so we had to quickly get used to the way others work during this process. It was extremely beneficial for us to get a first hand glimpse into the industry and everything that it entails.
Research Grounds
TNJ decided that it would be most beneficial to have each member do individual research, and then bring the information together to discuss as a team. We researched as many aspects of sustainability as possible, as well as the lifestyle of our target market. We came together and collaborated to create the exact profile of our customer, as well as our definition of sustainability and fair labor. We found that this method of research worked very well for our group, and continued to use it throughout the process.
Inspiration
When envisioning a sustainable apparel collection, we were inspired by such companies as American Apparel, Alternative Apparel, and Uniqlo.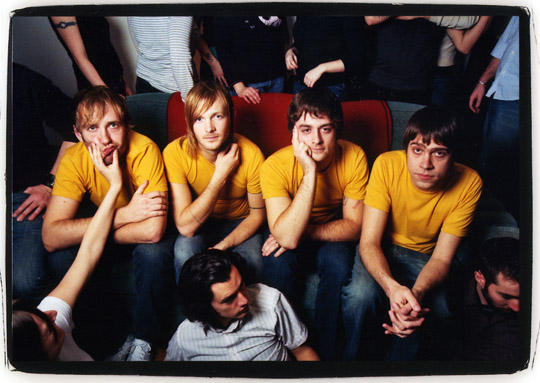 American Apparel is a good example of a company that minimizes waste by incorporating scraps into garments, accessories, and embellishments. We also wanted to look at other more subtle ways of being sustainable such as garments that can be worn in multiple ways.
Our group drew inspiration from a cleaner version of the New York hipster with a laid back California attitude. Our customer is an 18-25 year old student who embodies the modern-day hippie and indie rocker. They care about the environment and are opinionated about world events. They keep blogs and post on forums, always keeping current. Leading a sustainable lifestyle is important to them, including but not limited to, recycling and use of organics. When it comes to fashion, music, and culture, they go off the beaten path and look to magazines like Nylon for inspiration. These woman are laidback and casual yet edgy. They are feminine but not girly. They are the New Jocks.
We put ourselves into their shoes by listening to west coast indie rock by bands like Minus the Bear, reading articles about new, hip ways of being sustainable, such as portable living, and flipping through fashion spreads in Nylon magazine. We created a mood board to bring together our ideas and then we began the designing process.
Design Concept
The New Jocks promote a lifestyle. Our consumers are cultured, interested, and knowledgeable. They enjoy The New Jocks as a brand because of our
awareness of global concerns and interest and involvement in a better today, as well as tomorrow. In order to fulfill consumers quench for knowledge, The New Jocks have created unique methods of projecting information sought out by our targeted consumer.
The New Jocks have designed a website modeled off of Patagonia's. On the site, we intend to provide individuals with a firsthand account of the entire design, sourcing, and product development process. To find out where a garment was sketched, what country the fibers and textiles came from, and what country the piece was constructed in, all the consumer must do is move their mouse around the site. We chose to model Patagonia's site because as a design team we feel that their company presents their customers with important information in a visually clean, sophisticated, and user friendly way. With this information provided, individuals can make more informed purchasing decisions and hopefully educate others, as well.
End-of-Life Strategy for TNJ
Additionally, our design team hopes to have a craft section on the website. This portion of the site is crucial to our sustainable design efforts. The New Jocks imagine a crafty/do-it-yourself type guide with examples and suggestions on how to turn old garments into new, trendy, and creative objects. For instance, when a shirt goes out of style or is damaged, the owner can search our website for unique ideas to transform the old shirt into a new accessory or garment. The New Jocks hope that reusing textiles in this way will promote recycling and reworking old materials, as well as creativity and experimentation. This craft section will also clearly define the impact of recycling garments and the significant affect that a consumer can have on a products life cycle.
Furthermore, recycling old garments in a larger perspective such as making your own rug will also be available within TNJ's craft section. This is called, t-shirt rugs, which are a fun craft and you can get tons of use out of them after your clothing has worn out. This can also be done with fabric scraps. Check out this link for crocheting your very own t-shirt rug:
http://www.howstuffworks.com/framed.htm?parent=recycled-t-shirt-crafts.htm&url=http://www.craftstylish.com/item/39345/how-to-crochet-a-rug-out-of-t-shirts


Fair Labor Association and TNJ
Since 1999, the Fair Labor Association has been a nonprofit organization dedicated to ending sweatshop conditions worldwide. To aid the Textile and Apparel industry to assess their compliance with labor and environmental issues, the FLA has developed a questionnaire for companies to answer and gain insight. Also, there is a Factory Compliance Readiness tool to help manufacturers become compliant and more socially responsible factories in lines with the FLA's standards. At TNJ, we strive to be a member of the FLA. As a result of this, TNJ must pass several audits and survey measuring Factory Compliance Readiness and Labor and Environmental Compliance. See TNJ's results from the FLA below.
THIS TOOL WAS USED TO AUDIT OUR COMPANY THE NEW JOCKS-FUTURE FLA AUDITS WILL LOOK AT SUPPLIERS AND FACTORIES. (The below is a simulation of assessment tools FLA are developing).
Results for Labor and Environmental Compliance
Notable Performance
Risk Level of Business Model:
(score4.0-5.0) Your company sources from a limited number of factories, focuses on a few product groups and has direct relationships to its suppliers. This allows greater control over working conditions in its supply chain.
Labor and Environmental Standards/Compliance Information:
(Score4.0-4.9) Your company has adopted a code, but it is not really comprehensive: a few code elements to ensure fair working conditions and environment protection are still missing.
(Score5.0) Your company has adopted a comprehensive labor and environmental compliance code.
Communication of the Code:
(Score4.0-5.0) Your company communicates the code to the suppliers and requires them to comply with it. Your company also supports the supplier in providing training activities within the factory to enforce the code/policy implementation.
Social Compliance Audit:
(Score4.0-4.5) Some or all of the company 's suppliers have received social compliance audits in which the company was directly involved. Some of these audits have detected violations of labor and/or environmental standards, but unfortunately the company has not yet started to follow up on these.
(Score4.6-5.0) Some or all of the company 's suppliers have received social compliance audits in which the company was directly involved. Some of these audits have detected violations of labor and/or environmental standards and the company tried to follow up on the audit results.

Intermediate Performance
Level of Risk Control:
(Score2.71-3.9) Your company only has minimum procedures to allow it to maintain control over its supply chain. Direct contact with factories and/or agents need to be intensified.
Issues TNJ Focused On
There were several issues that The New Jocks focused on in order to achieve a more sustainable design. First we focused on what we call the
"two-in-one" look. Several of our garments are transformable. One skirt with a drawstring waist can also be worn as a top, once the sides are unsnapped creating armholes. Another skirt features a fold over waistband that once folded up can be pulled over the bust and worn as a tube top. A pair of legwarmers easily becomes a tubular scarf once the two pieces are snapped together. A cascading cardigan we created can be tied in several unique ways. By designing these "two-in-one" looks and creating pieces that are easily interchanged with each other, we've allowed for our customer to create more looks with fewer clothes. By doing so, they will not buy excess clothing when they can clothe themselves with a small, but diverse wardrobe. By consuming less, the customer is able to lead a more sustainable life.
Next, we did our best to minimize the amount of waste material produced by the collection. This was done by including several garments created from rectangular pattern pieces, such as in our transformable skirt/top, the full skirt with fold over waistband, the legwarmer/scarf, and the skirt of the maxi dress. This diminishes the number of irregularly-shaped scrap pieces that in most cases would be discarded. Those irregular scraps that are made from our cutting out our other garments, however, are then knotted and featured as an embellishment in the inset of one our tank tops. By using scraps as embellishments, it greatly reduces the amount of fabric that is discarded needlessly after the cutting process.
By creating versatile pieces that both minimize and utilize fabric waste, The New Jocks has achieved a more sustainable collection.
TNJ's Fashion Ethics
The New Jocks fashion ethic is to create sustainable apparel collections for an educated consumer looking for more purpose behind their clothing. Through versatility and utilization of scrap materials, the New Jocks aims to decrease over-consumption and minimize waste. The New Jocks wish to further inform their customer on the issue of sustainability in fashion and keep their business practices transparent. Through craft projects and recycling, The New Jocks encourage extending the life of their garments. The New Jocks look to further awareness of what it means to be sustainable in fashion, in ways more than just organic materials.
TNJ"s Goal
The New Jocks goal for this project is to create fashionable yet truly sustainable garments for our target market. We have accomplished this by determining what we believe are the most important aspects of sustainability and finding ways to incorporate them into our designs.
We plan to fulfill our buyers' desire for sustainable clothes in a few ways: the two in one look (a garment that can be worn in multiple ways), versatility within the line (pieces that can be combined with other looks across the line), and by minimizing waste (keeping pattern pieces as rectangular as possible).

Why our designs are sustainable:

Versatile – they can be dressed up or down (go from day to evening) which allows for a smaller wardrobe and more basic pieces that can be worn more often
The shapes of the pattern pieces are sustainable – we tried to make the pattern pieces as simple as possible so as to make the least amount of waste fabric possible (pattern pieces are rectangles wherever possible)
Some are transformable. our two skirts can also be made into tops, further expanding the possibility of a wardrobe which can change with the occasion, instead of needing extra pieces
We recycle fabric scraps into our designs
TNJ's Best Design
This ensemble represents our group because it achieves all three of our goals which promote sustainability. One, it is a versatile outfit because with the right accessories it can go from day to night, eliminating the need for extraneous clothing in the wearer's wardrobe. Two, it has the ability to transform because the skirt can also be worn as a top and this allows the life of the garment to be extended greatly. Three, the shape of the pattern pieces on this ensemble are very simple and we kept them as close to rectangles as possible. This allows for very little waste in the cutting process when this ensemble is produced.
How did TNJ Pick Designs?
As a group, we thought it best to work individually on a number of designs each, and then come together and pick a few from each team member. This was a positive way to design this line because it allowed for each designer to develop her idea of what The New Jocks aesthetic should be. We then took the best ideas from each designer, which made our sustainable collection full of many creative and innovative designs. To start the process, we met as a group and first discussed who we were designing for, what would be the most positive market to target this line to, and what their interests and passions were. This allowed us to come up with a few key inspirations, including the hipster subculture and southern California surfer bands. Our goal was to take inspiration from things not involved in fashion, for example we read about a sustainable movement of portable living, because we hoped that this approach would allow us to create innovative sustainable designs, instead of what is already seen in the market today. Though our editing process was long since we started with around 100 designs, I think in the end this method allowed us to come up with the most progressive designs we possibly could.
Moving Forward: Important Issues and How TNJ Addresses Them
Important issues in the fashion and apparel industry are fair labor and human rights practices. Are factories following regulations and codes of conduct? How can a company be sure that the factory they are working with is truly following these codes? Is a third party audit enough to confirm a factory's labor practices? These questions are vital to answer in the industry. There can be no acceptance of child labor, overtime without pay, unsanitary working conditions, etc.
The industry must take action and emphasize the necessity of following strict codes of conduct. If more companies join the Fair Labor Association and assess their business practices, they can take positive steps toward creating a sustainable industry. Once businesses asses themselves, it is vital that they analyze their results and take action to create better conditions. While this may mean choosing new factories, implementing stricter codes of conduct, or direct audits from top company officials, any effort in this direction would be a positive change.

TNJ's Biggest Question
Every individual company has a different understanding of what it means to be sustainable. How can we make this a uniform understanding among all companies and consumers in order to keep everyone working together to reaching our goal of being environmentally aware and friendly?
Erin am Mende, Mishqua Allie, Kathleen Clark, Annie Rieck, Amanda Seidenberg